One of my favorite things to do is to share music with others. Here are some of the projects I've been involved with to that end.
Solo Performance
Take Me Home: My Solo Album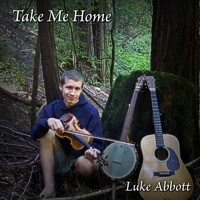 My solo album, Take Me Home, was the culmination of several years of exploration into the solo performance of old traditional American songs. I wanted to see how far I could go with just my voice and an instrument (mostly either fiddle, guitar, or banjo), performed live with no overdubbing or studio tricks. I also love arranging songs in ways I've never heard before, and that resulted in some of the tracks I'm most proud of.
Listen to the album here (where you can also read more about how it was made).
Solo Music Videos
Collaborations
With the Abbott Brothers
My brother Kyle and I have a bluegrass/honky-tonk/Americana trio called (creatively enough) the Abbott Brothers. We play lots of private events such as weddings, company picnics, fundraisers, etc. Below are a few videos of the band; you can watch more (and stream our EP for free!) on AbbottBrothers.com.
With the Abalone Trio
My good friends Billy Pitrone and Sarah Eblen have been jamming buddies for almost fifteen years now, and I've performed with them in their bands far too many times to count. In 2014 we decided to start performing as a trio. Here are a few little videos we shot, and you can watch more videos of us at AbaloneTrio.com.
With the Little Band
Keith Little, who is/has been a sideman for many legendary bluegrass artists (Ricky Skaggs, Peter Rowan, David Grisman, Vern Williams, Country Gentlemen, and many others), has put together a fine group of musicians for his own band: Michael Witcher on Dobro, Josh Tharp on banjo, Steve Swan on bass, and yours truly on fiddle and mandolin. I'm delighted to be playing with these folks! (Official site.)
With Molly Tuttle
Molly is an incredible singer and picker, and one of my favorite people to sing with. It's always a treat to play music with her, as I did at these two shows in Santa Cruz and Grass Valley.
With Frank Wakefield
Frank is a one-of-a-kind character; he's got "backwards talking" down to a science, and he doesn't only use it on stage either. (My first phone message from him went: "Goodbye, this is Luke Abbott. I'm trying to speak with Frank Wakefield…") On this three-concert mini-tour, we did 50% Monroe standards, 50% Wake Frankfield compositions (a delightfully fun challenge).
With the Kathy Kallick Band
I've enjoyed Kathy's music for many years, so it was an honor (and super fun!) to sit in with her band for a few gigs in 2010. She's got a great band of musicians: Annie Staninec on fiddle, Tom Bekeny on mandolin, Dan Booth on bass (now Cary Black), and Greg Booth on banjo & dobro. I did my best to fill the shoes of Greg, who is also one of my big dobro muses.
With the family band
For over ten years (2001-2012), the Abbott Family Band was my parents Carl (guitar) and Leslie (bass), my brother Kyle (mandolin), and myself on banjo. We played a few festivals and concerts, but our favorite venue was Pacific Avenue in Santa Cruz, where we busked for charity almost every weekend for years.
Other collaborations
Hire Me for Freelance/Session Work
Need a musician for something? I'm very experienced with both studio recording and filling in for other musicians in a band. I'm a quick study and instrumentally versatile; my main weakness is that I'm a poor sight reader, but I make up for it by being able to learn parts by ear really quickly. Contact me and let's talk.